Canvases from Yumyum's most recent exhibition 'RANDOMS'.
Full size images with details and sale prices below (all paintings are Acrylic with a coat of Matt Acrylic Varnish).

01) 'CLANDESTINE CUBAN CANASTA'
Framed
90cm x 90cm /  35" x 35"
£POA (price on application)

02) 'CHEQUE-MATE/STALE-MATE'
Framed
(WW1 symbolic painting for the Centenary of The Great War.)
100cm x 100cm / 40"x40"
£POA (price on application)

03) 'HAUGH FARM' – Norfolk
(The De La Cour Family)
NOT FOR SALE
I paint house-scapes with the family as commissions.

04) 'ICONIC' – Battersea Power Station
Unframed
90cm x 90cm/ 35"x35"
£1,800

05) 'THÉROIGNE DE MÉRICOURT'
Framed
Anne Joséph Terwagne 1762-1817
Fatal Beauty of the French Revolution.
120cm x 99cm / 47"x 39"
£2,500

06) 'DESERTERS FROM THE DANCE'
Framed
120cm x 100cm / 47" x 39"
£1,100

07) 'STOOD UP ' (Pheasant in the snow)
Framed
80cm x 120cm/ 31"x47"
£1,200

08) 'I'D LOVE A BABYCHAM!'
Bantams.' Unframed
60cm x 60cm/24" x 24"
£700

09) 'THE SUFFRAGETTE II '
Parrot Tulip. Unframed
90cm x 90cm / 35" x 35"
£750

10) 'ROBERT DE NIRO – "You lookin'  at me?"'
Parrot Tulip. Framed
90cm x 90cm / 35"x 35"
£800

11) 'LOCATION, LOCATION, LOCATION – I.O.W'
100cm x 100cm / 40" x 40"
SOLD

12) 'BUSY BANTAMS'
Framed
x 90cm /35"x 35"
£800

13) 'WARDROBE MALFUNCTION'
"It's a nice day for a white wedding!"
Unframed
60cm x 60cm / 24"x 24"
£950

14) 'PUG POGO "Ça plane pour moi!"'
Unframed
60cm x 60cm / 24" x 24"
£950

15) 'BPS- PISTACHIO GELATO'
Unframed
Fluorescent Battersea Power Station
90cm x 90cm / 35" x 35"
£650

16) 'BPS- BUBBLEGUM GELATO'
Unframed
Fluorescent Battersea Power Station
90cm x 90cm / 35" x 35"
£650

17) 'BPS TRIPTYCH: PAST; PRESENT; FUTURE'(Battersea Power Station)
Unframed, 3 x A4 canvases
£900

18) 'BPS- ICONIC' (Battersea Power Station)
Unframed, 1 x A4 canvas
£300

19) BPS PAIR:' ICONIC GLOW 1&2′
Fluorescent Battersea Power Station
2 x A4 Unframed canvases
SOLD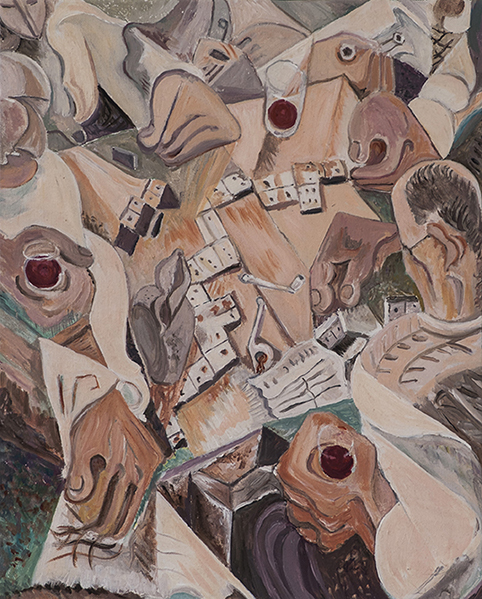 20) 'Les Joueurs de Dominoes'
Tribute to André Masson!
NOT FOR SALE

21) 'BOO'S BOO BOO!'
1 x A4 Unframed canvas
£500
22) 'ASH WEDNESDAY III , T. S. Eliot
Triptych
Framed:
97cm x 64cm / 38" x 25"
£1,100